How to find drafts on Facebook app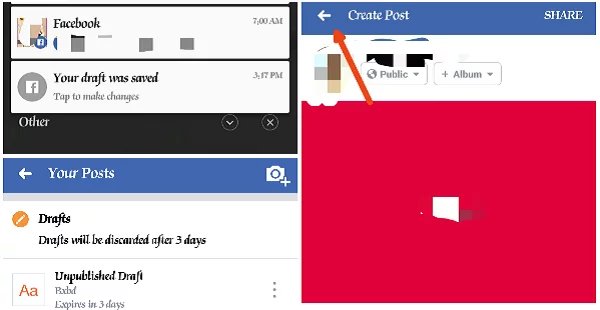 Finding drafts on the Facebook app may seem a bit challenging if you don't know the right steps to follow.
And what if you have saved important content on your Facebook draft and want to recover it?
Not to worry, you will know how to find drafts on the Facebook app right here.
But before we get into it, I will like you to note something here about Facebook drafts.
Facebook drafts do not stay in the app above 3 days.
What that means is that you have just 3 days to recover your draft and finish your post, or have your Facebook saved drafts completely discarded.
Now you know that you have just 3 days to finish whatever thing that you started 😆
This post will be very useful for people who write articles and lengthy content on Facebook.
So if you were inspired to write and suddenly the inspiration goes off, you don't need to start all over again when the inspiration is restored.
All you need do is to have the content written so far as one of your saved drafts on Facebook.
Let's dive right in!
How to find drafts on Facebook app
There is no navigation to a section within the Facebook app to find saved drafts.
But here is what to do.
If you already saved your post as a draft on Facebook before coming to search for information on how to find drafts on the Facebook app, do this!
You will have to make another draft post on Facebook.
Maybe dummy texts, just to help us navigate to the drafts we saved previously.
Here are the steps:
Save a dummy draft post
Once saved, you will have a notification on your phone status bar (clear other notifications so you find your Facebook draft notification easily)
Tap on the notification from your phone status bar and you will be taken to the post you just saved
Tap the back arrow at the top left corner of the edit screen to find other drafts you saved that are not older 3 days
Then you will have a list of saved posts not older than 3 days.
You can also watch the explanatory video below to help you better understand how to find drafts on Facebook app:

youtube.com/watch?v=9ghqQ7NyvkE
Personally, these are the steps I follow when I want to find drafts on the Facebook app.
I hope this will also help you find yours.
If you have any alternative method of finding drafts on the Facebook app, feel free to share.